Many thanks to Anthony McKay from the AVENGERLAND site.
Anyone interested in the history of the Elstree Studios should definitely visit this site.

Only a few buildings from around 1980 remain.
The reception building, Studio 7, 8 and 9, The White House, a building marked on the floor plan as 'Power House'.

The Enigma building, The Plaster shop building (K).
Furthermore, the work and storage shops at the back of the site (F).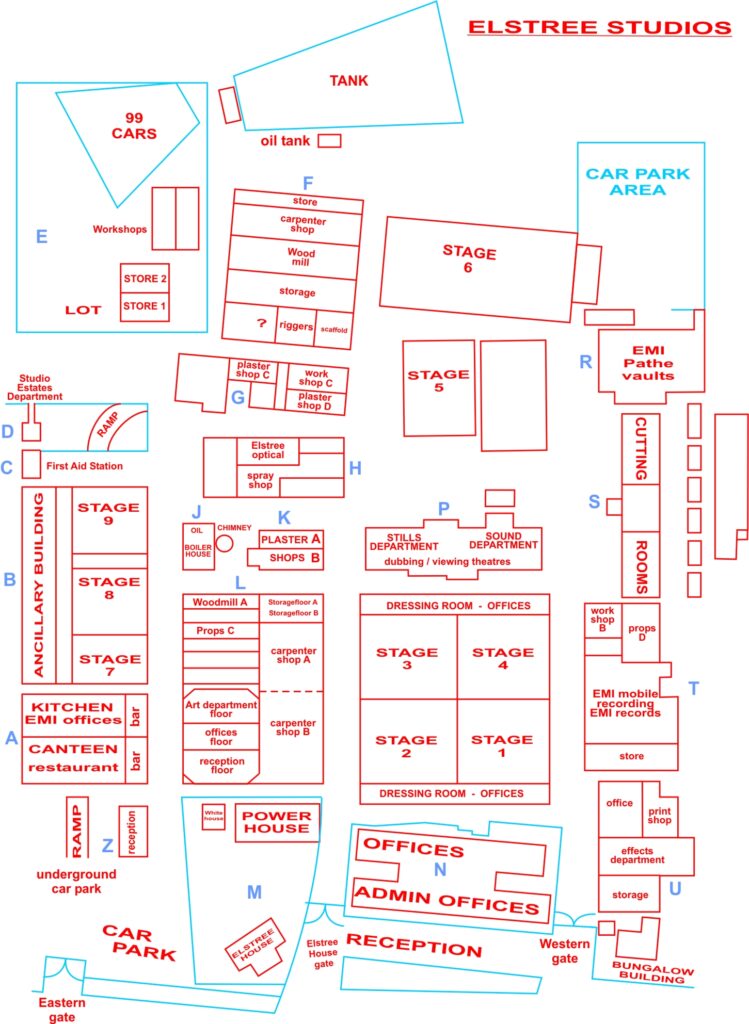 A – Studio Administration Building
Administration Offices, Accounts, Studio Operations Office, Restaurant / Canteen, Bars
B – Ancillary Building
Production Facilities, Dressing Rooms, Hair/Make-Up Rooms
C – First Aid Station
D – Studio Estates Department
E – Miscellaneous Building
Stores 1 and 2, car park area (was a water tank) Workshops (Huts)
F – Scene Docks
Woodmill, Carpenter Shop, Storage, Riggers and Scaffold Store
G – Miscellaneous Building
Plasterers C and D, Workshop C
H – Maintenance Building
Storage, Miscellaneous Companies, Art Departments, Spray Shop
J – Boiler House
K – Plasterers Shops A and D
L – John Maxwell Building
Offices/ Art Departments (3 Floors), Workshops: Woodmill, Carpenters Shops A and B, Storage, Conference Room
M – Miscellaneous Building
Power House, Fire Department, Car Hire, Elstree House
N – Administration Building
Production Offices, Offices, Conference Room, Viewing Theatres, Art Department, Foam Lab, Main Reception
P – Post Production Building
Stills Department, Sound Department, Dubbing / Viewing Theatres
R – Miscellaneous Buildings
Pathe Library, Film Vaults, Storage: Props A and B
S – Miscellaneous Buildings
Cutting Rooms New/Old, Film Vault Storage
T – Storage Building
Carpenter Shop, Props D, Workshop B, Hair/Make-Up Department, Crowd Wardrobe
U – Special Effects Building
Offices, Workshop, Storage, Bungalow Building
Z – Security Main Gate