Hits: 142
Studio Plan around 1980
Many thanks to Anthony McKay from the AVENGERLAND site.
Anyone interested in the history of the Elstree Studios should definitely visit this site.

Only a few buildings from around 1980 remain.
The reception building, Studio 7, 8 and 9, The White House, a building marked on the floor plan as 'Power House'.

The Enigma building, The Plaster shop building (K).
Furthermore, the work and storage shops at the back of the site (F).

The big secret is where Durkin's Service Station is located?
It must be on the Elstree property. (see Where's Durkin's?)
In the scene it looks like an existing building. Can also be seen in Vivian's documentary, when they are working with snow.

If anyone knows anything about this, please let me know in the comments below.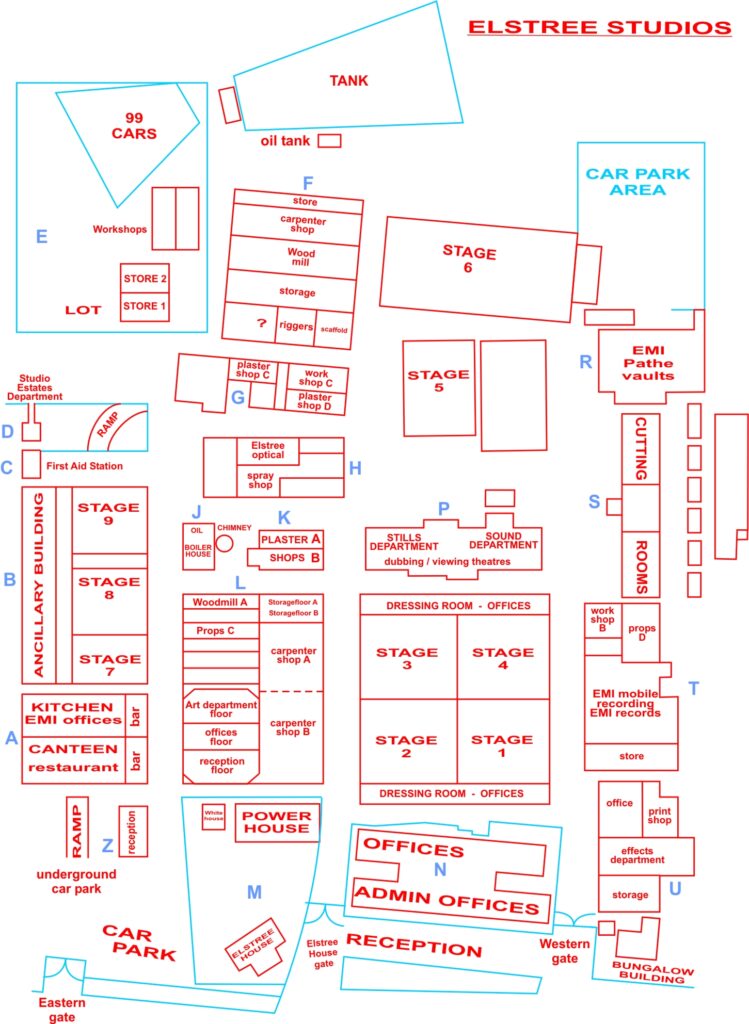 A – Studio Administration Building
Administration Offices, Accounts, Studio Operations Office, Restaurant / Canteen, Bars
B – Ancillary Building
Production Facilities, Dressing Rooms, Hair/Make-Up Rooms
C – First Aid Station
D – Studio Estates Department
E – Miscellaneous Building
Stores 1 and 2, car park area (was a water tank) Workshops (Huts)
F – Scene Docks
Woodmill, Carpenter Shop, Storage, Riggers and Scaffold Store
G – Miscellaneous Building
Plasterers C and D, Workshop C
H – Maintenance Building
Storage, Miscellaneous Companies, Art Departments, Spray Shop
J – Boiler House
K – Plasterers Shops A and D
L – John Maxwell Building
Offices/ Art Departments (3 Floors), Workshops: Woodmill, Carpenters Shops A and B, Storage, Conference Room
M – Miscellaneous Building
Power House, Fire Department, Car Hire, Elstree House
N – Administration Building
Production Offices, Offices, Conference Room, Viewing Theatres, Art Department, Foam Lab, Main Reception
P – Post Production Building
Stills Department, Sound Department, Dubbing / Viewing Theatres
R – Miscellaneous Buildings
Pathe Library, Film Vaults, Storage: Props A and B
S – Miscellaneous Buildings
Cutting Rooms New/Old, Film Vault Storage
T – Storage Building
Carpenter Shop, Props D, Workshop B, Hair/Make-Up Department, Crowd Wardrobe
U – Special Effects Building
Offices, Workshop, Storage, Bungalow Building
Z – Security Main Gate