Hits: 1270
It was never the intention of Stanley Kubrick to connect all the sets in the Shining.
The camera never followed an actor from one set to another.
For example, when Wendy most likely comes out of the kitchen with her serving trolley in the morning, we don't see which route she is taking.
The lobby is on the ground floor and the caretaker apartment is on a higher floor. Which elevator does she take and where is it?
Maybe this route is a possibility?
Wendy's route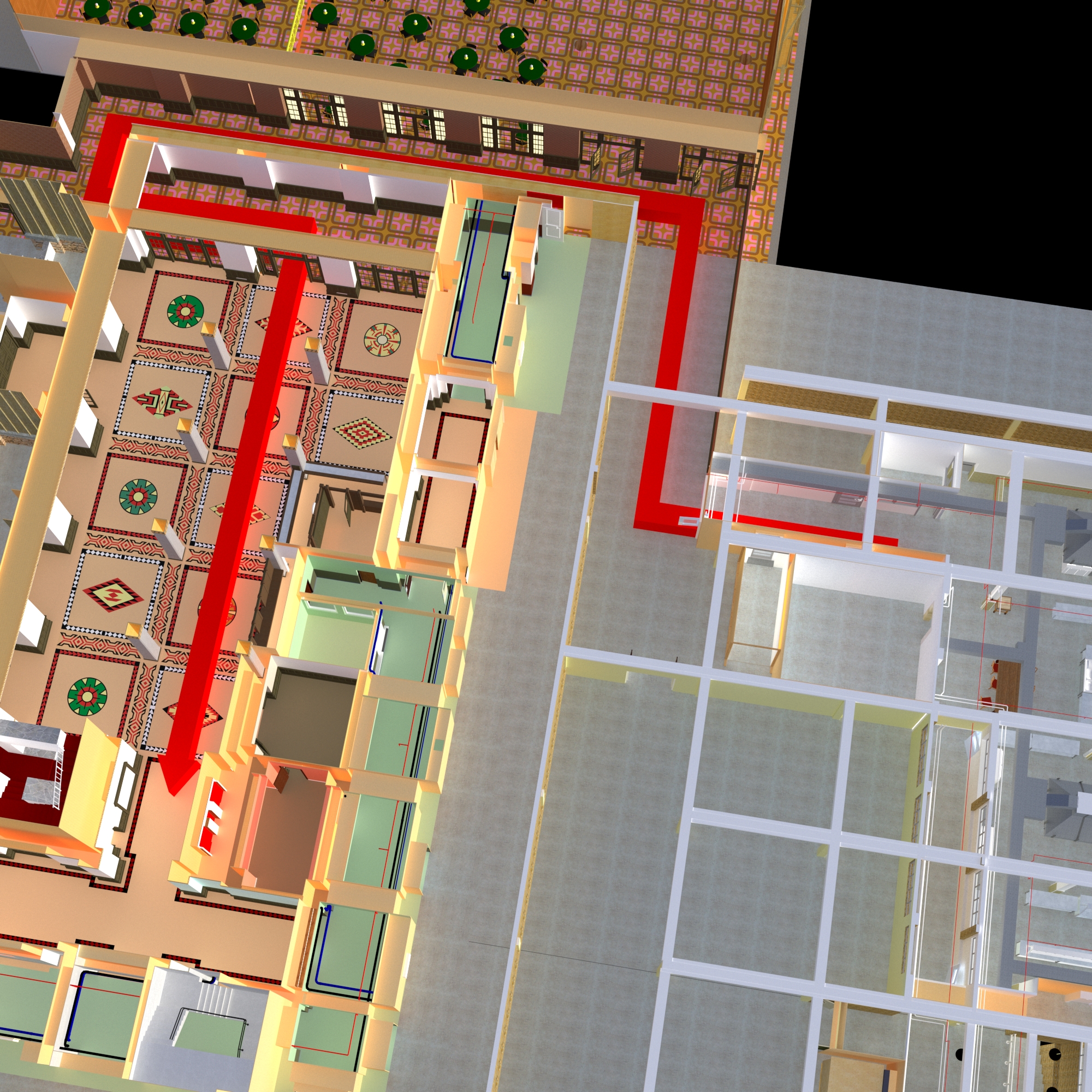 Disorientation
Stanley Kubrick just wanted to create a sense of disorientation. Which ultimately gave The Overlook Hotel its fascinating feeling.

In the pictures below I have tried to connect sets together.
The red columns may be connections between the lifts and the different sets.

I have tried to fit the Colorado Lounge into a building to derive its dimensions. Since the Colorado Lounge is built on stage 3, it can be inferred from this how big the stage must have been. I'm not sure if the entire Room 237 set was linked. In any case, the antechamber of Room 237 with the mirror doors.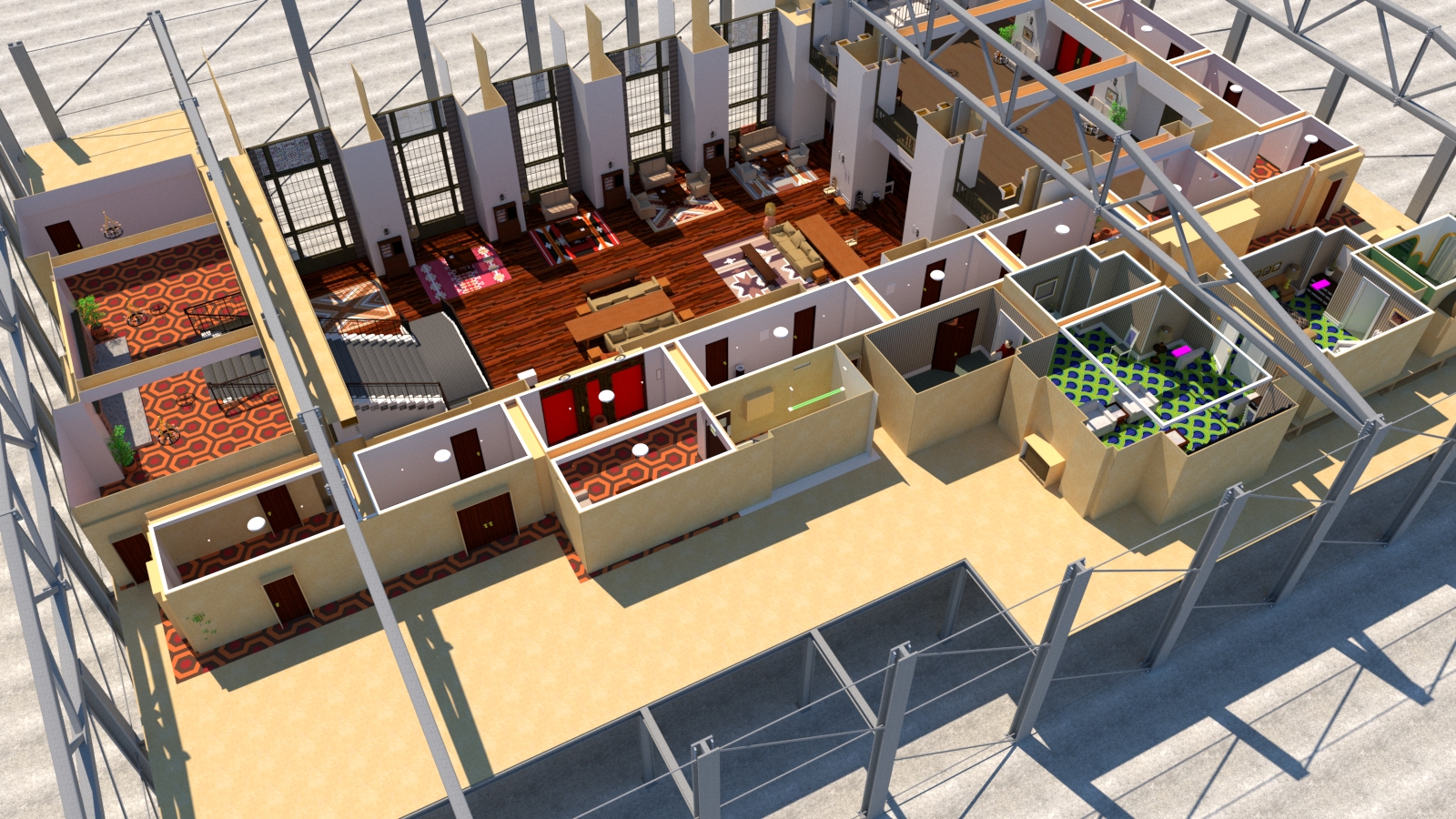 A render in which the exterior of the Overlook Hotel is linked to the Lobby. It can be seen that the entire façade with the maze is at an angle to the lobby. When Jack turns on the lights at the exit at night, the maze entrance is visible. This would mean that the maze is at an angle to the entrance.

The entrance to the maze will also change place. At the beginning of the movie, when Jack and Wendy are given a tour by Stuart and Bill, the entrance is on the side. Later when Jack is chasing Danny, the entrance is changed and on the side of the facade and visible from the exit, when Jack turns on the outside lights.


Here I have tried to connect as many elevators as possible. The kitchen service elevator can be seen on the right. which is linked to the elevator entrance below in the boiler room. This was a real elevator in one of the production buildings. see link.

I also tried to link the elevator in the lobby with the elevator in the Colorado Lounge. That would mean that the lounge would be turned 90 degrees.
Then the Exit elevator would almost fit the Colorado Lounge's first floor elevator. I have yet to figure out how much distance he misses.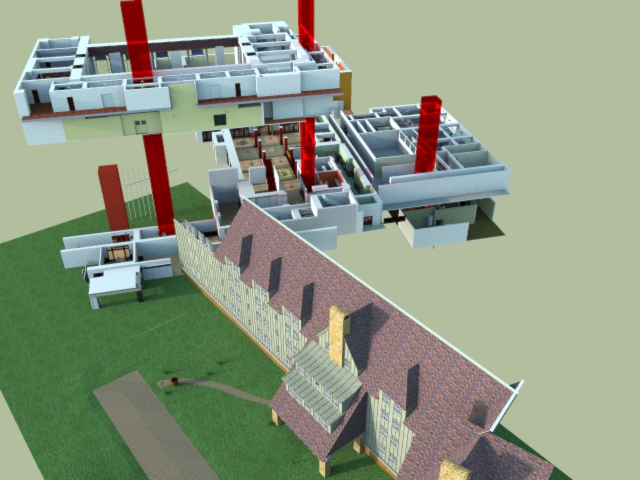 Here a better view of the elevator connection Lobby and Colorado lounge. To the left is the kitchen service elevator, which goes down.