Hits: 935
Layout Room 237
Room 237 of The Overlook Hotel has become iconic.
There is even a documentary about it, called Room 237 by Rodney Ascher.
Room 237 actually consists of four parts. the hall, living room, bedroom and bathroom.
When reconstructing Room 237, use was made of the 16: 9 film format and also the 4: 3 format. The latter format provides additional information at the top and bottom of the frame.
Unfortunately there are no production photos of the Room 237 scenes. If anyone has seen photos, let me know in the comments below.
Art
Hereby would like to express a big thank you to Joe Girard for his fantastic site about the paintings, drawings, posters, books and magazines featured in The Shining. Without him, I could have only used fuzzy screen grabs. Check his site EYE SCREAM.
It's very rewarding.
Room 237 is full of paintings.
There is 1 painting in the antechamber of Alex Colville, Dog, Boy, and St. John River.
In the Living there are 5 paintings and in the bedroom 6.
Floor plan of Room 237
The set of Room 237 was built on the same set as the Colorado Lounge. See the floor plan of the Colorado Lounge.
I have tried to get the dimensions as accurate as possible. A scale distribution has been made to the left under the bathroom. The black and white areas are 1 meter in length.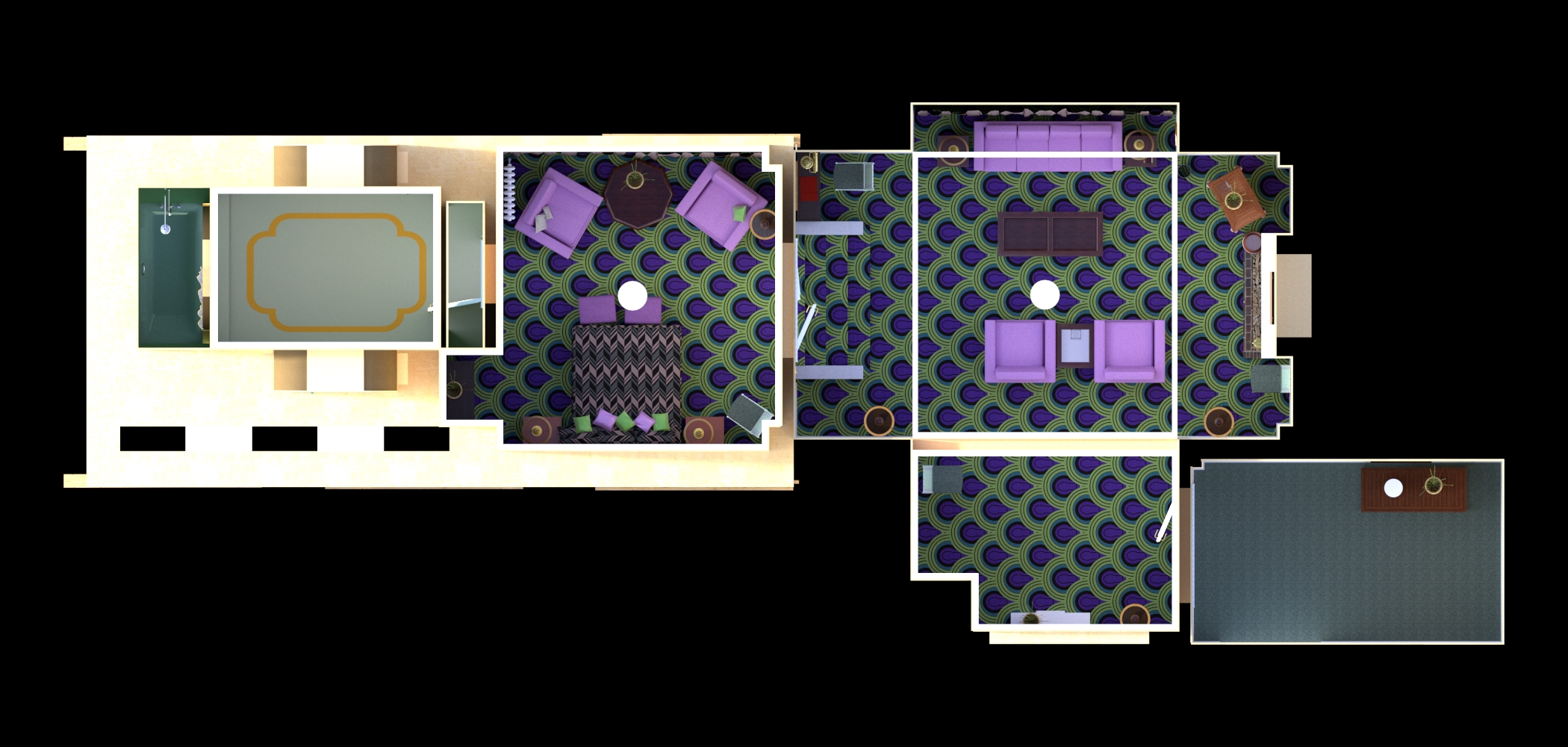 Here are some more improvements possible.
The color and material of the sofa and chairs have yet to be properly made. The painting next to the door is not the correct one yet. Also the curtain can use an update.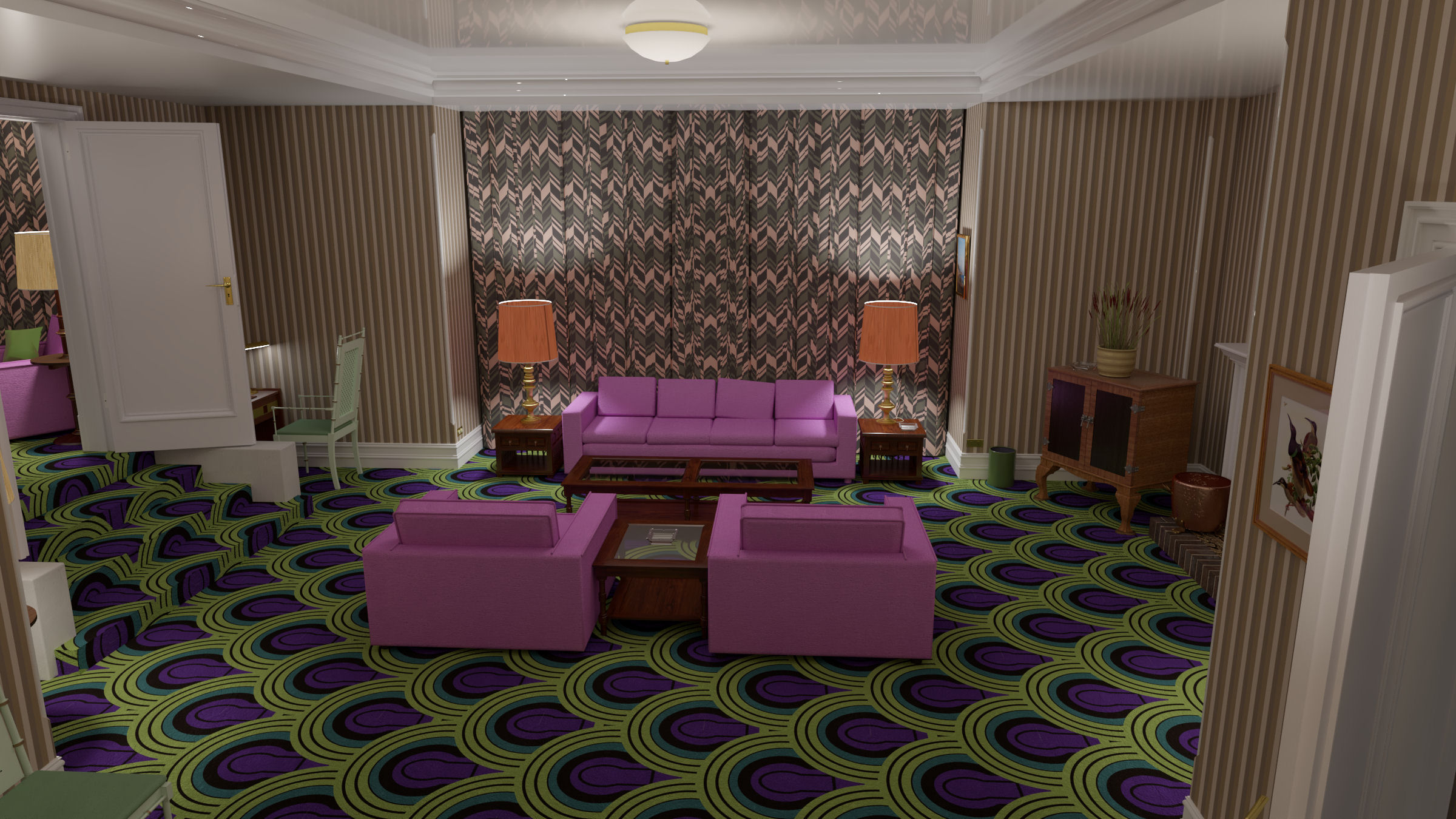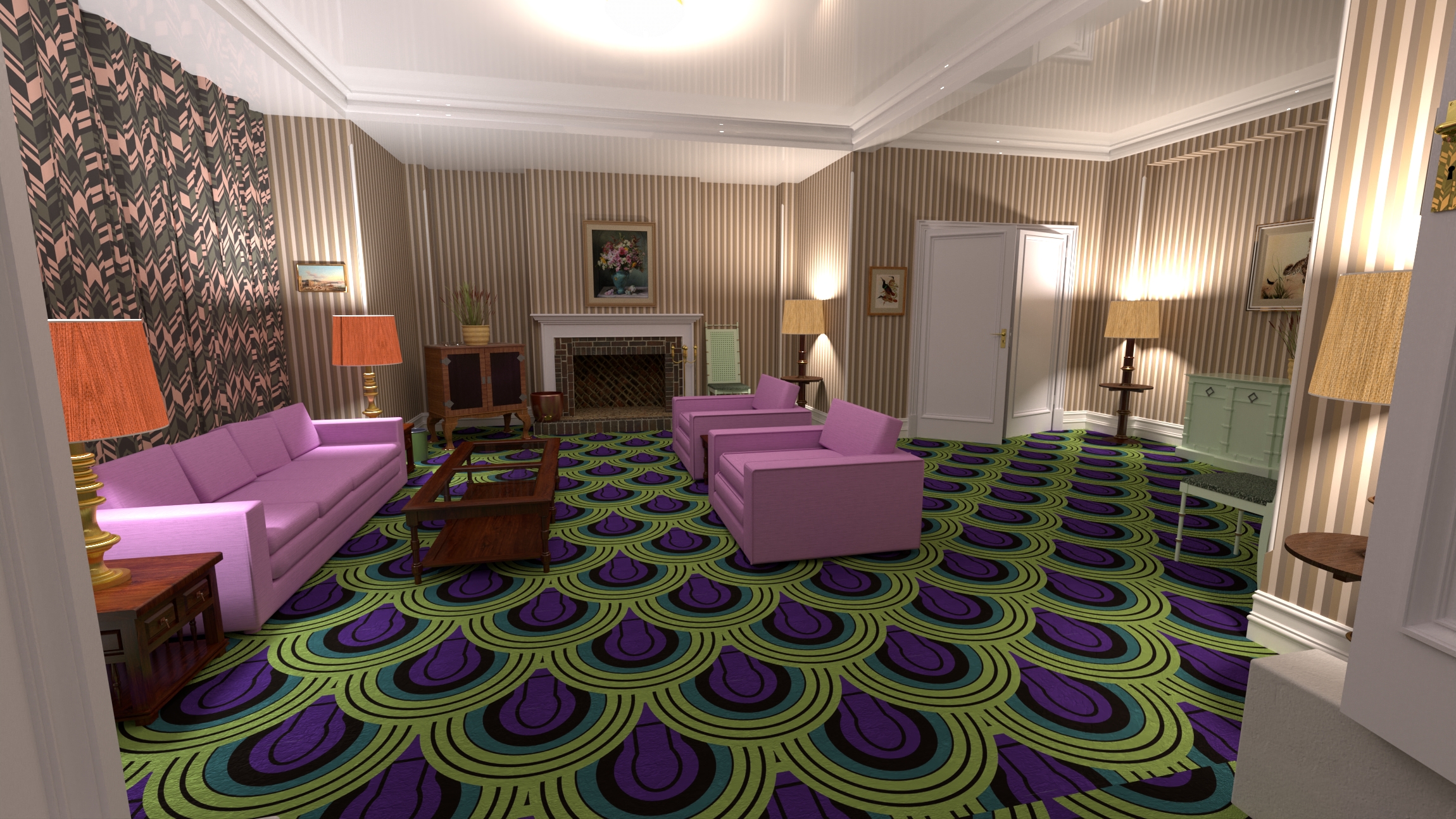 Latest findings
When fitting the Colorado set into Stage 3, it turned out that the set with the Room 237 expansion just didn't fit within the walls of Studio. Certainly if the necessary space is taken into account that is necessary for the illumination of the 5 gigantic windows.
860 1000 Watt lamps are mounted on a rack to illuminate the 80 by 30 foot diffuser screen.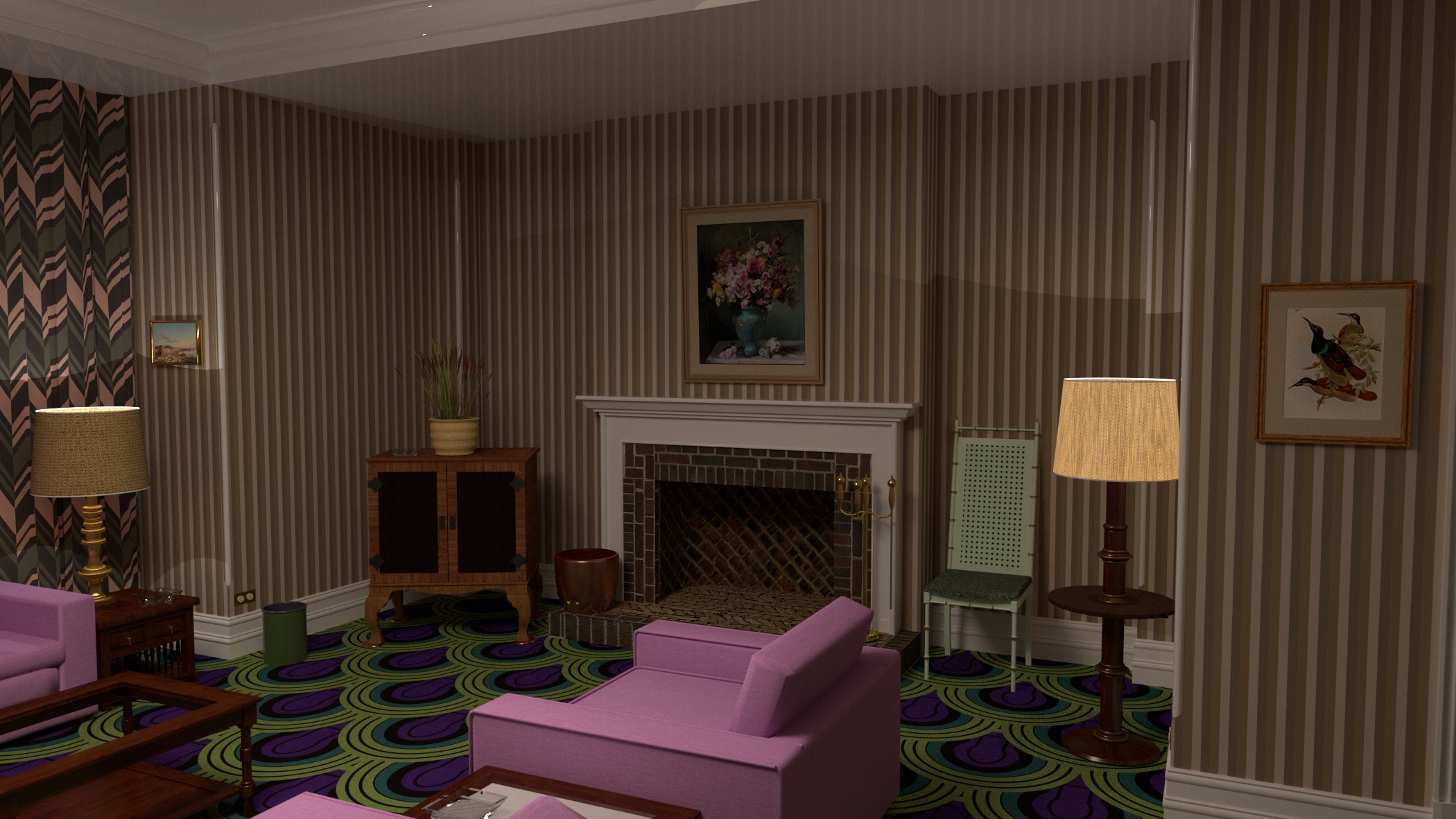 Vase with flowers
I am happy that we found almost all the paintings in room 237.
The painting above the fireplace has been replaced by the original one after years of searching. Vase with flowers – Nadia Benois (1896-1975). The fireplace toolset and brass fireplace andirons have now also been added.
Some difficult to recognize paintings remain. Next to the door at the entrance and near the sofa.

Nadia Benois was the mother of British actor, writer, and filmmaker Sir Peter Ustinov. Wikipedia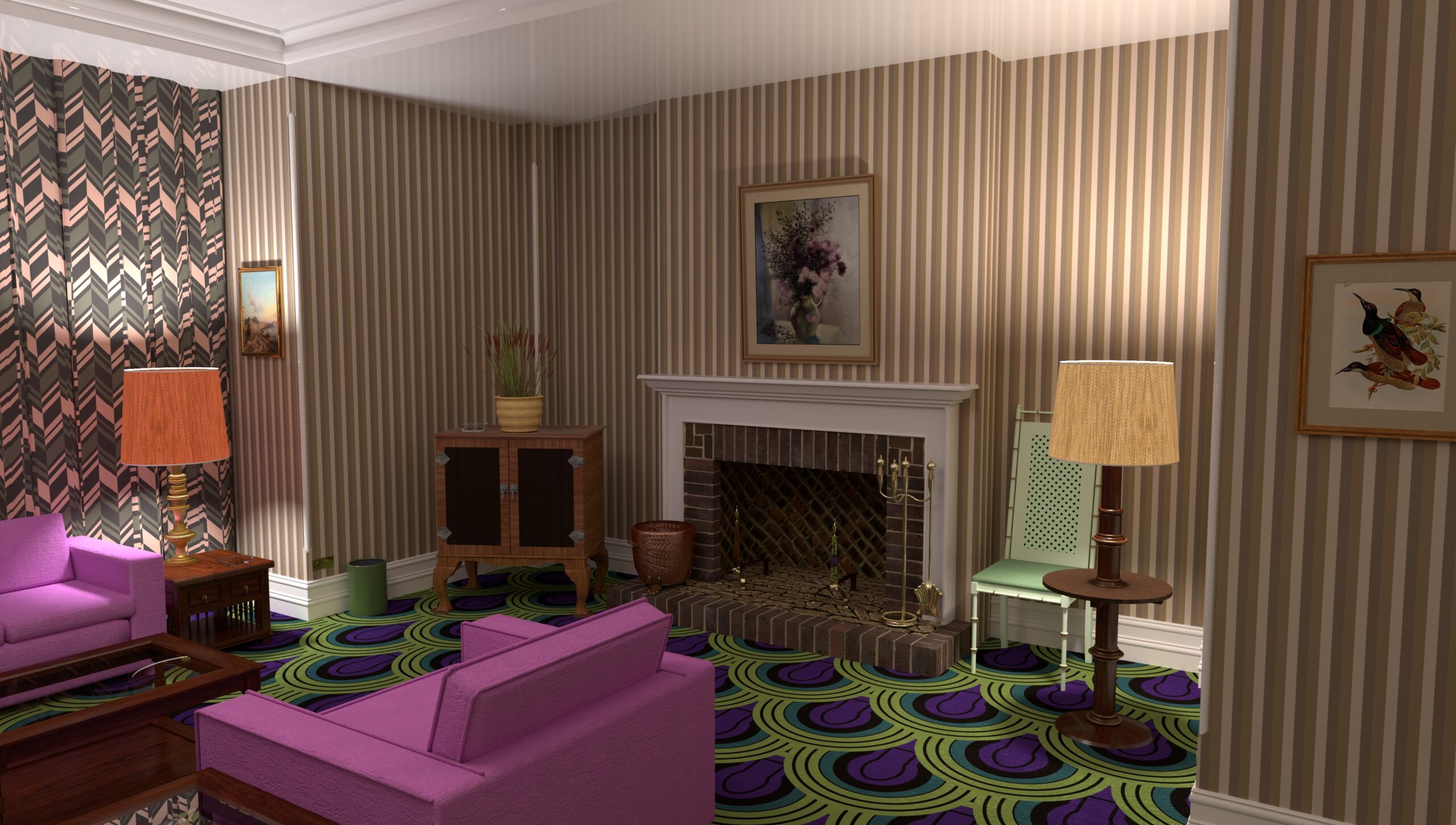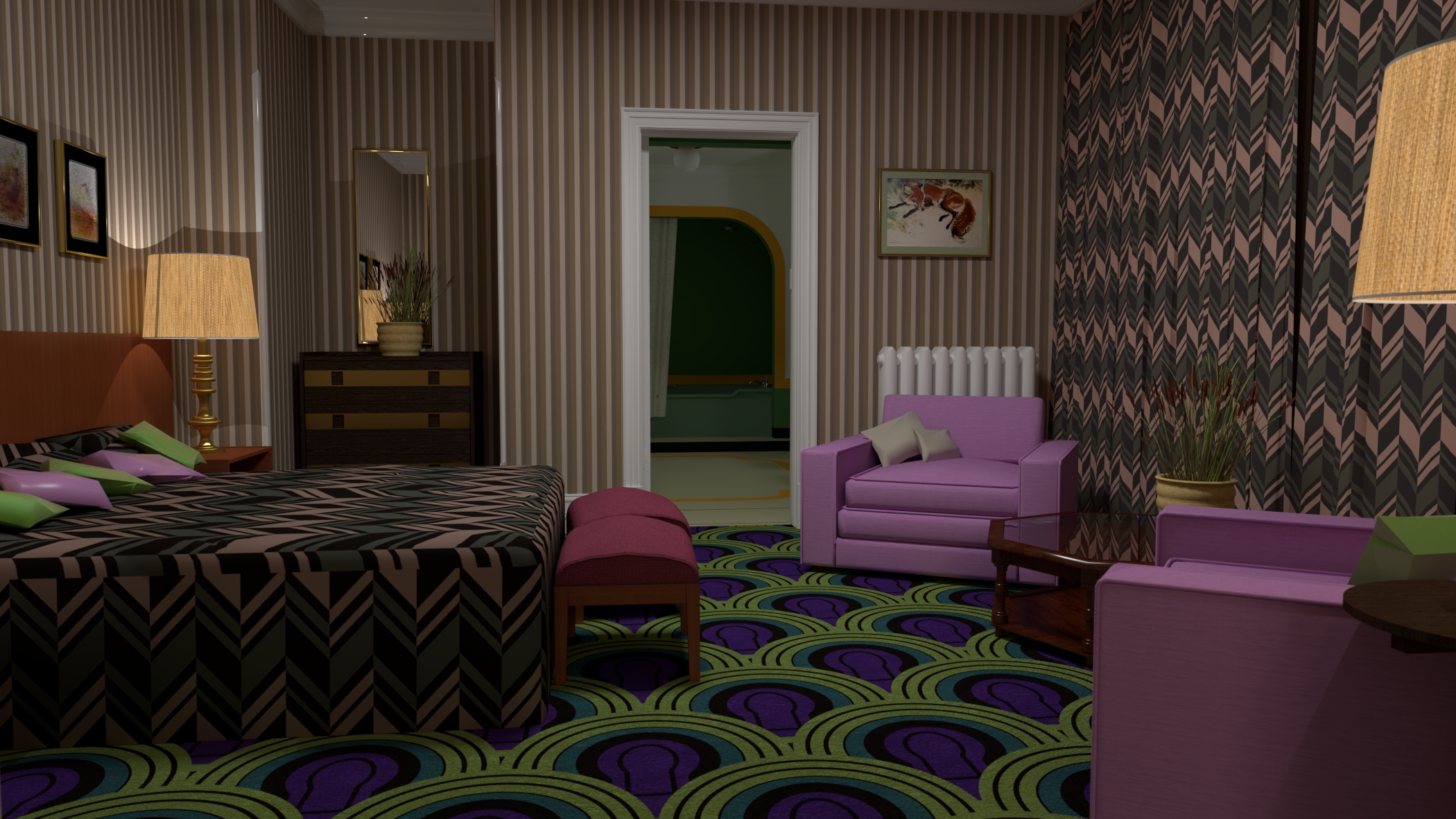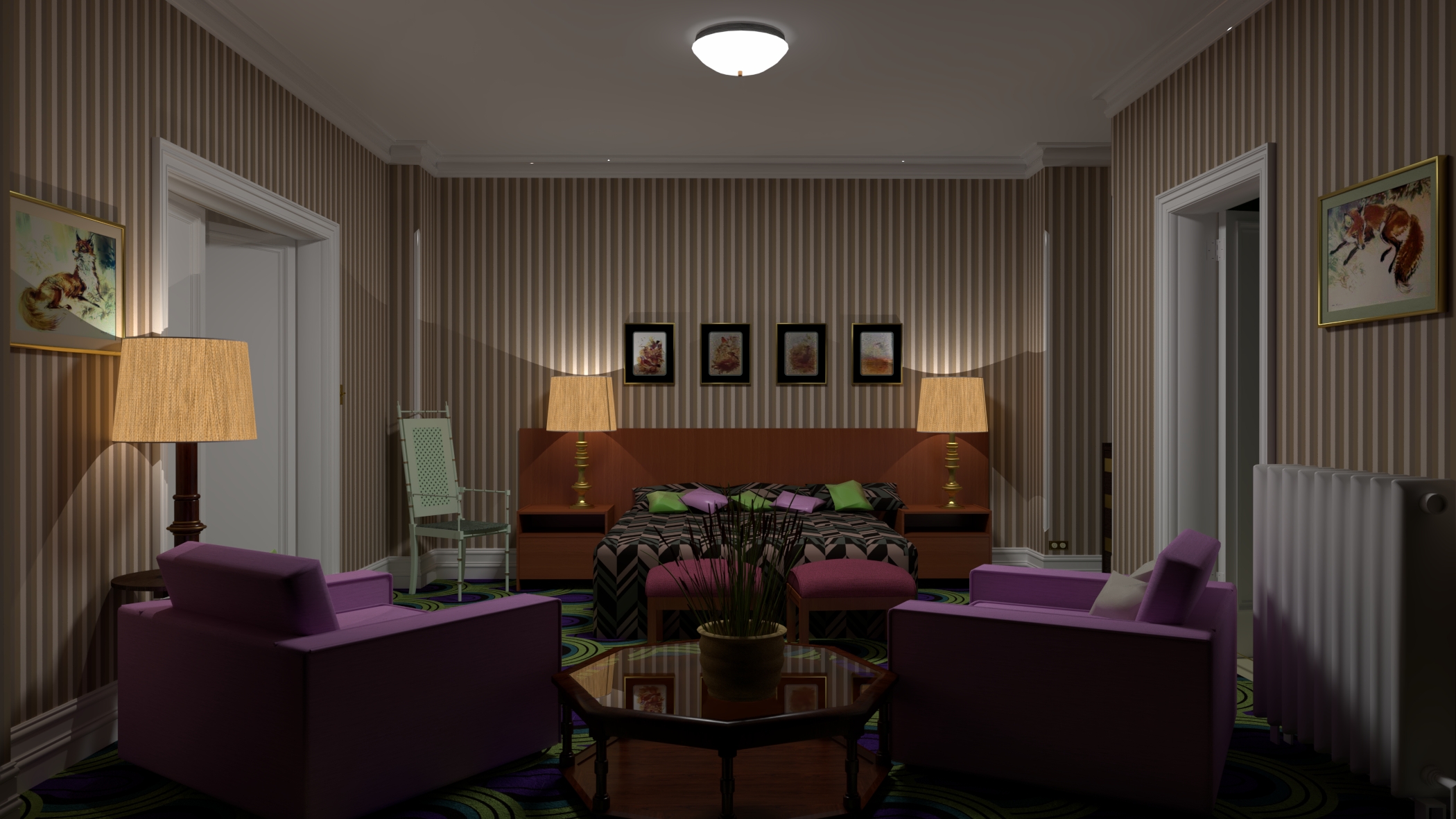 All paintings in the bedroom of room 237 in one render. Left and right the two foxes. Right Fox Resting and left Fox Alert both painted by Ralph Thompson a Canadian artist and member of the "Group of Seven"
I couldn't make the paintings without the help of a great art researcher, Joe Girard. Check out this site: EYESCREAM about all the art in The Shining.


Above the bed four bird paintings. Turdus Pilaris (Fieldfare), Pyrrhula Vulgaris (Eurasian Bullfinch), Blackbird (Turdus Merula), Alcedo Ispida (Common Kingfisher)
Artists are John Gould, Henry Constantine Richter and William Matthew Hart.
You want to know about the bird pictures? BIRDS